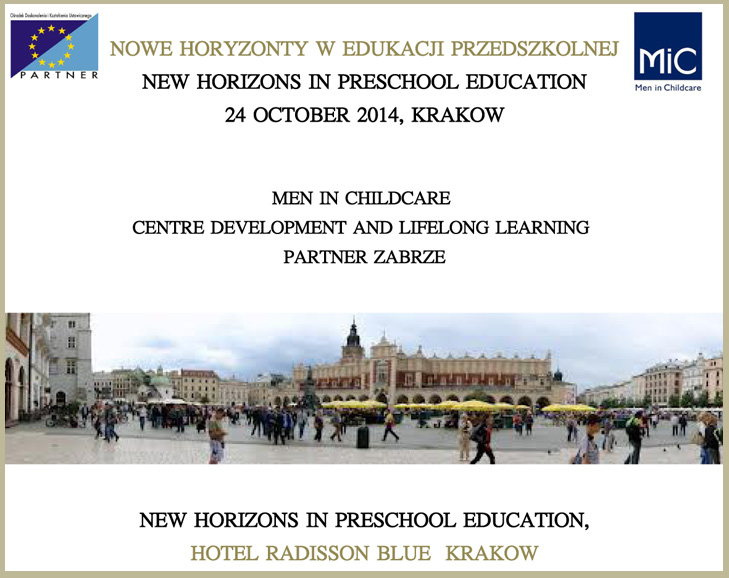 NOWE HORYZONTY W EDUKACJI PRZEDSZKOLNEJ
NEW HORIZONS IN PRESCHOOL EDUCATION
24 OCTOBER 2014, KRAKOW

MEN IN CHILDCARE
CENTRE DEVELOPMENT AND LIFELONG LEARNING
PARTNER ZABRZE
NEW HORIZONS IN PRESCHOOL EDUCATION,
HOTEL RADISSON BLUE, KRAKOW

The aim of the conference is to promote proven and effective ideas and solutions in
preschool education, to exchange experience and establish cooperation, with experts from the European Union and the United States. A key objective is to compare the current state of gender balance in Early Education in the areas of Poland, The Czech Republic, Belgium, Holland, Ireland, Norway, Scotland, England and the United States.
The Conference will be followed by a European Network Meeting on the 25th of October your attendance is welcome.

All Booking Requests to Kenny@meninchildcare.com
OWE HORYZONTY W EDUKACJI PRZEDSZKOLNEJ,
New Horizons in Preschool Education
Cecylia M. Nawrot, Dyrektor Ośrodka Doskonalenia i Kształcenia Ustawicznego Partner w Zabrzu,
dr Marianna Styczyńska, Uniwersytet Adama Mickiewicza w Poznaniu,
Natalia Gumińska, Uniwersytet Mikołaja Kopernika w Toruniu,
Kenny Spence Manager, Men in Childcare, Edynburg,
New Horizons in Preschool Education
---
Conference - June 2012
That was the conference that was !
The Innovators International Conference certainly lived up to its billing, with speakers and delegates from all over the World in attendance.
The Edinburgh City Chambers looked as resplendent as ever as beams of light shone through between pillars and pews, illuminating the delegates every bit as much as the invited speakers. Colin Chisholm Co-ordinator MIC welcomed guests in his own inimitable fashion, gaining sniggers and titters whenever possible, before introducing the first speaker. Charlie Lewis kicked off proceedings, followed by Colwyn Trevarthen as the conference gathered pace toward the mid morning coffee break. After the interval, the delegates were officially welcomed by Councillor Paul Godzik, Convenor for Education for Edinburgh City Council. Kenny Spence then took to the podium followed by Kate Hookham Coordinator of Mindstretchers Living Classrooms.
A wonderful finger buffet ensured no one went hungry at lunchtime, a special mention and a big thumbs up here, to the catering staff at The Edinburgh City Chambers for whom nothing was too much trouble. After lunch, it was full steam ahead with an opening session from Claire Warden CEO of Mindstretchers, followed by Steven White coordinator of Auchlone Nature Kindergarten. The finale was left to the highly entertaining and all round great guy Jerry Parr (USA) and once again he had the audience enthralled not only by his own infectious personality but by the wonderful images and stories of Native American tribal life. The Plenary which followed played testament to the various subjects covered and of their interest to the gathered delegates, it was indeed an Innovative afternoon.
Keynote speeches will be published on this website very shortly.
---
Conference 2005 - Imagine
Imagine a European conference which will Help recruit men into childcare. A conference that will take us on the Long and Winding Road through advertising, college work and practical placements, which shows us A Day in the Life of a typical MIC student and graduate, for how it was Yesterday and how It's Getting Better. Paperback Writer, Peter Moss will discuss how he has been at the forefront of this Revolution. Erik Hauglund tells us how a Norwegian Wood deal with the subject, illustrating that if you stop advertising and Let it Be, the number of men will fall accordingly giving us a Helter Skelter effect. Kenny Spence and Colin Chisholm from MIC will show how, if dealing with problems and pitfalls we are All Together Now, It Won't Be Long until We Can Work It Out and make sure we can assist Childcare and Early Years find their Nowhere Man.
---
European Conference 2004 - A Man for all Reasons
City Chambers, Edinburgh - 1 October 2004
This Conference celebrates the success across Europe in recruiting men to work in childcare and the establishment of a groundbreaking European Partnership. As well as discussing the roll out of Men in Childcare across Scotland and how this was achieved. The Conference will also focus on work with fathers and the many reasons to have men involved in the life of children. If you only have time for one conference this year make it this one.
Edinburgh, one of the most beautiful cities in the world, famed for its annual festival as well as its historic architecture and now firmly on the map as the home of one of Europe's most forward thinking and innovative childcare recruitment projects.
The conference venue is the City Chambers situated in the High Street just 3 minutes from Edinburgh Castle, 5 minutes from Waverley Station and 20 minutes from Edinburgh Airport. There are numerous reasonably priced hotels near the conference venue, see www.meninchildcare.com for details.
---
European Conference 2003
City Chambers, Edinburgh - Monday 8 December 2003
This conference brought together a range of diverse European projects and the methods they have used to recruit men into childcare. Scandinavian countries in particular have been much more successful in this field, therefore a Danish childcare college where almost 50% of the students were male and how this was achieved was highlighted. The contributions from Norway and Sweden focussed on good practice and how they have managed to achieve one of the highest proportions of men working in childcare.
The conference also focussed on a campaign in Flanders, Belgium which has been extremely successful in recruiting and supporting men.
The event was held in Edinburgh, home of the Men in Childcare Project which continues to recruit an ever growing number of men into childcare training.
The conference was addressed by Prof. Peter Moss former Chairman of the Childcare Network of the European Commission and the Editor of Children in Europe.
Currently the targets for men working in childcare in England & Wales have been set at 6% and although there are no targets as yet in Scotland, there is commitment and funding from The Scottish Executive to increase the number of men working in childcare.
---